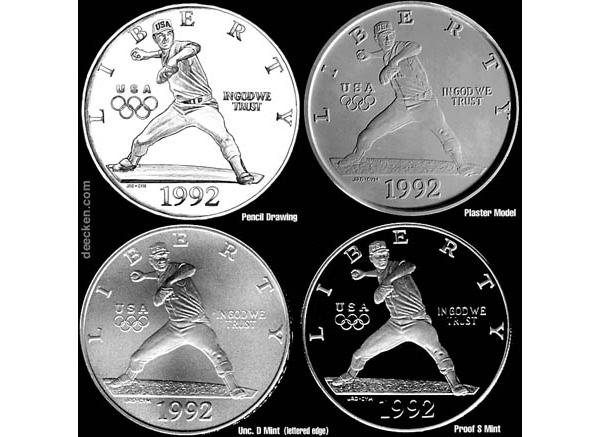 John R. Deecken's winning design for the obverse of this legal tender coin was one of several chosen by Secretary of the Treasury Nicholas Brady in 1991 for commemoration and fund-raising for the 1992 Barcelona Olympic Games. The 90% silver coin was minted at both San Francisco and Denver facilities, the latter featuring a unique finely reeded lettered edge with the words XXV OLYMPIADE four times incusely inscribed.
Chester Y. Martin was the Master Sculptor of the plaster model for the coin (with many other coins and medals to his credit). John assisted Chester at the Philadelphia mint in sculpting some of the details of the 8-inch plaster model such as the hands, shoes, glove and pitcher's rubber.
Known on "the street" of the numismatic community as the Nolan Ryan Dollar, some controversy raged regarding the likeness of a living person depicted on a coin.  This was even the subject of a Jeopardy question in 1993…  Alex Trebec, looking for the answer (actually the question) "Who is Nolan Ryan?" stumped the panel with a $600 question in the category 1992: "This future Hall-of-Famer was alleged to be depicted on a U.S. Silver Dollar last year."   Other's have said that their is an uncanny resemblance between the pitcher's face and that of the artist😎.
.