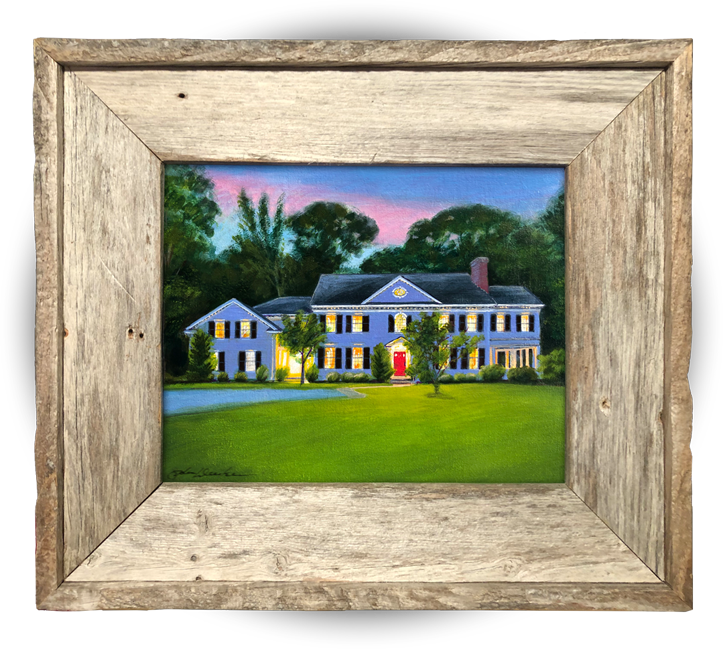 House Gallery Slide Show
❤ Original House Portraits by John Deecken
Hand-painted acrylic on 10″ x 8″ linen-wrapped masonite panel.
Framed in antique barn wood.
$349 delivered.
I've been painting house portraits for leading realtors in Fairfield County since 2003 and have continually tried to refine my craft with each assignment. Every house has a unique character… a spirit that can be captured by just the right touch. Painting with acrylics allows me flexibility and control as I give attention to every region of the canvas until it all falls into place.
❤
• Reference photos of your house or landscape can be sent to info@deecken.com.
• Realtors can email me a link to their MLS listing.
• Sometimes the street address is helpful as Google Maps provides good reference images in most cases.
• I'll crop and/or center the photo provided on the 10″ x 8″ rectangle appropriately and email to the purchaser an image of this final layout/design along with any edits that the purchaser might want like the removal of a bush/tree or electrical wires, etc.
• Once we agree on the final layout I typically require 7-10 days to finish the piece depending on workload. I'll send the purchaser a photo of the painting at that time for the final approval before shipping/delivery.
• We can communicate via email regarding any issues of concern or we can speak on the phone during the process.
❤ Complimentary Domestic USA shipping / Local Delivery